ABYSSINIAN
Osiris(V) & Chat d Or Abyssinians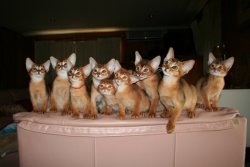 Sue & Michael Shawn
Warner 4500 (Brisbane Metro Area)
0428 672 256
0405 104 260
Osiris(V) "Abyssinian Breeder of the Year" consecutively since 2009. Osiris(V) Queensland Royal Supreme Feline Exhibit 2010, 2011, 2012 & 2013. Home of Osiris(V) Fast Talker, Australia's Supreme Abyssinian 2012, 2013, 2014. At stud, 2013 Royal Sydney Supreme All Breeds Exhibit Osiris(V) Sammy Davis Junior. Breeding exceptional kittens from top quality German, Canadian and Australian lines.

All our kittens are home raised with tons of love and affection - "Always underfoot"
Abysrok Abyssinians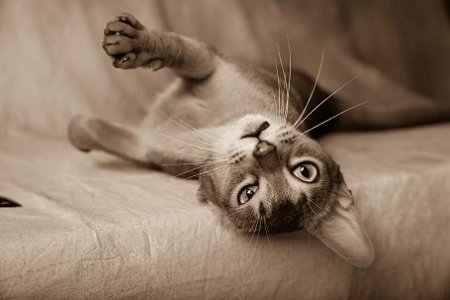 Christine Mangin
Kallangur 4503 (Brisbane Metro Area)

0467 667 416
Abysrok is a small boutique cattery where all kittens are raised in the house with loads of love resulting in happy confident "mini mountain lions" ready to rule your world. Although the kittens all come from champion show lines health & temperament is the prime consideration here. Breeding mostly tawny with the occasional cinnamon why not let an Aby "rok" your world.
Shayba Abyssinians
Julia Caunce
Fernvale 4306 (Brisbane Metro Area)
0754 267222
0416 126251
Shayba is a small cattery specialising in breeding silver Abyssinians. These beautfully coloured and highly distinctive cats make lively, intelligent, playful and loving pets. Bred from show winning lines our kittens are raised underfoot in a healthly home environment. All enquiries welcome.
Cenglow Abyssinians
Sandra Doyle
Bracken Ridge 4017 (Brisbane Metro Area)
07 3261 4417
0407 971 448
My name is Sandra Doyle and I live in Bracken Ridge. Health and temperament are most important to me. I have only tawny kittens and rarely a cinnamon. The kittens are house raised, socialised and very happy.
Cairocat Abyssinians
Jeanette Cook
Rush Creek (Brisbane Metro Area)
07 3425 2491
0417 342 524
Our cattery opened in 2010 breeding Abyssinian cats. We live 45 km north of Brisbane and breed mostly tawny and cinnamon and the occasional blue. Kittens are born and live inside until going to their forever homes. Well adjusted, confident, happy and affectionate kittens. All cats have access to fully enclosed outside areas. Registered with Qld Feline Association and abide by their rules. All cats are desexed, microchipped, wormed, vaccinated x 1 or 2. A four generation pedigree and kitten care sheet will be given.
AMERICAN S/H
Blazer American Shorthairs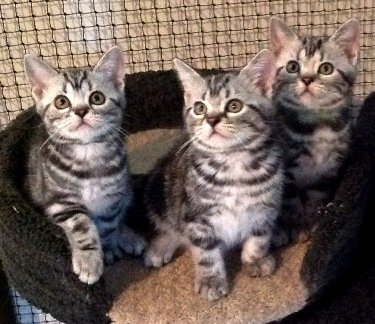 Allan & Judy Berry
Samford Valley 4520 (Brisbane Metro Area)

0457 648725
Registered breeders of quality American Shorthair kittens. Dedicated to breeding for health, type and temperament. All kittens are lovingly raised in our home and are very well socialised.

Moreton Bay Regional Council
Breeder Permit: AN/5612/2015/BAP
BALINESE
Sukra Oriental, Siamese & Foreign Whites
Vanna & Anthony Wilder
Mount Warren Park 4207 (Brisbane Metro Area)

0438 149 148
Small breeder of Siamese, Balinese, Orientals & Foreign White shorthair/longhair for beloved pet and show. Lovingly raised as our own. Please visit our website for more information.
ALANZA BALINESE
Robyn Scorer
Carindale (Brisbane Metro Area)
07 3398 1659
0416 718 503
We are a small breeder striving for excellence. All our kittens are raised under foot in a home environment. We are producing show/pet quality family members. All our kittens and cats have big hearts and a calm attention seeking temperament.
BENGAL
Kinglake Bengals
Deborah Suraci
Gold Coast (Gold Coast Area)

0417 593693
Breeding strong wild looking Bengal cats with adorable personalities.
BIRMAN
Nicsha Birmans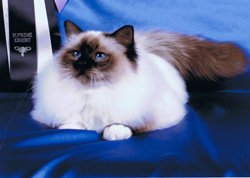 Marie Mahoney
Morayfield (Brisbane Metro Area)
07 5497 9385
0433 815 367
Nicsha Birmans are located in Brisbane Australia, just on the lower end of the north coast and a thirty minute drive from the centre.We have only one boy and two girls. If you think a Nicsha Birman is where you would like your new pet to come from, you will need to contact us to have your request placed onto our waiting list for one of our special Birman babies. We only breed seal point and blue points.
All pets are sold desexed and microchipped unless they are going to a show/breeding home.All enquiries are most welcome.

Moreton Shire Council Breeders Permit - AN1862/2010/BAP
Dreampoint Birmans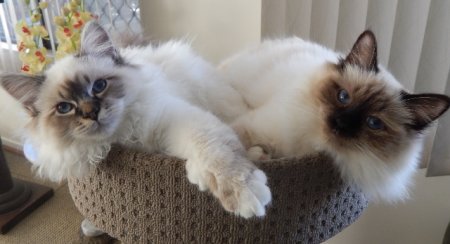 Leilani Stabe
Hendra (Brisbane Metro Area)
3268 1549
0448 186 796
Breeding solid and tabby point Birmans for health and temperament with loving natures on Brisbane's northside. All my kittens are born and raised in my home with love
Gramar Birmans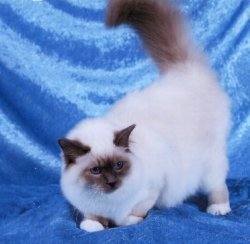 Nicole Brown
Nambour (Sunshine Coast Area)
07 5441 6241
0410 637 139
Gramar Birmans are breeders of quality Birmans in seal, blue, chocolate and lilac points and our adorable tabby points. Raised in a very loving family environment.