BIRMAN
Bobbysocks Birmans
Denise Figg
Camira (Brisbane Metro Area)
07 3288 2680
0418 988 752
I have downsized and I am now only breeding specialty colours red and cream points, although tortie points are available sometimes. All my kittens have the "Purr" factor and make great pets. Orders taken for kittens usually available between October and February.
Hoshiko Birmans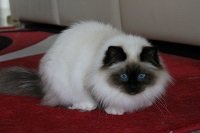 Tricia Erridge
Sheldon (Brisbane Metro Area)
07 3206 4200
0433 130 944
We are a boutique cattery situated in the Redlands breeding seal, blue and chocolate point Birmans. Known for their beautiful blue eyes, silky coats and wonderful temperaments these gentle cats make a wonderful companion and pet. All our kittens are born and raised in our home so are well socialised . Our kittens are available for adoption either as a showcat or pet.
Metinka Birmans
Judith Lewis
Gold Coast (Gold Coast Area)
07 55692345
0417 232 494
The Sacred Temple Cat of Burma. Loyal, loving Birmans. Small cattery with 42 years of breeding Birmans. House reared kittens.
Brincat Birmans
Lesmar Debrincat
Sunshine Coast (Sunshine Coast Area)
07 5438 7869
0421 319 073
Breeding The Sacred Cat of Burma the easy care semi longhair in the colours of seal, chocolate, blue and lilac. Please visit our website for more information.
Otara Birmans
Andrew Marshall
Mt Ommaney (Brisbane Metro Area)

0419 641 107
Jodalyn Birmans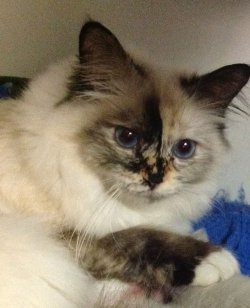 Saandy Fairchild
Caboolture (Brisbane Metro Area)
5432 9851
0404 007 525
Feanor Birmans
John and Janice Sandercock
Hillcrest (Brisbane Metro Area)
0409 340 490
0415 489 244
We breed red, cream and tortie point Birman cats. All our cats and kittens are raised living in our house with us. We concentrate on heath, temperament and Birman type.

Logan Shire Council Breeders Permit - ANI/APPBRE/4430
BRITISH SHORTHAIR
Ambritt British Shorthairs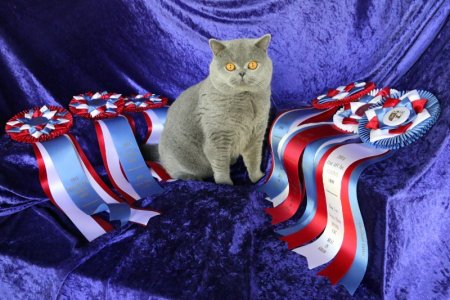 Julie & Aaron Maas
Greenbank 4124 (Brisbane Metro Area)

0402 012 456
Ambritt is the home of the "National Champion" - Ambritt Hurricane Harry. Ambritt is proud of the success of their kittens and cats at a National and International level. We pride ourselves with breeding our British for health, type and temperament. We are breeding Blue, Blue Bi-Colours, Lilac & Lilac Bi-Colours. Our kittens are born and lovingly raised in our home. All enquiries welcomed.

Logan City Council Breeder Permit #RS/Breed/4444.

Furdinkum British Shorthairs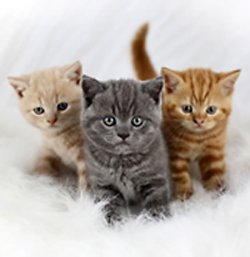 Tracey Bill
Upper Caboolture 4510 (Brisbane Metro Area)

0447 740 940
Located in Upper Caboolture, Furdinkum is a boutique, home-based cattery breeding from quality, registered British Shorthair stock.

We breed a variety of colours including bi-colours. Kittens are born and raised in my home and are used to household noises and dogs.

Moreton Bay Regional Council Breeder Permit No: AN/1828/2010/BAP
Blueprints British Shorthairs
Kylie Terlier
Bundaberg 4670 (Country Area)


Blueprints British Shorthair are a small boutique style breeder focused on producing kittens of quality and type with a loving temperament to match. Our kittens are born and raised inside our home and receive constant love and attention. Blueprint babies are well socialised with kids, cats and a busy family life. We breed blues, lilacs and bi-colours and enquiries are always welcome.


Idreamof British Shorthairs
Steffanie Curran
Bundamba 4304 (Brisbane Metro Area)

0458 717123
As a small boutique cattery situated in Ipswich, our cats are an extension of our family who delight us with little bundles of fury love which we refer to as "grandkittens". We breed for quality and distinction not quantity. This ensures that each kitten receives plenty of individual attention, with lots of love and heaps of cuddles. We breed the Blue, unusual Colourpoint and the gorgeous Bi-Colour British Shorthair. We are proud to be breeders of gorgeous, health, family orientated British Shorthair cats and kittens, who are packed full of love and purr-sonality.
Katzenco British Shorthairs
Marilyn Watson
Caboolture South (Brisbane Metro Area)
07 5499 2643
0409 471481
I live in the Caboolture area and breed our lovely British Shorthair cats. I am a small breeder and at the moment breeding solid blue only. My babies are born and reared in my home and are desexed, microchipped and full vaccinated before going to their new homes. Enquiries welcome.

Moreton Bay Regional Council
Breeder Permit No: AN/4449/2014/BAP