BURMILLA
Abytales Burmillas
Joan McClintock
Edmonton Cairns (Country Area)
07 4045 4047

Dedicated to breeding short and longhaired Burmillas in black and brown shaded or tipped silvers. Kittens lovingly raised in my home to be well socialized. Pet kittens are sold desexed, vaccinated and microchipped. Striving to breed the ideal Burmilla with an approved Burmilla Breeding Program.
CYMRIC
Tinytails Manx & Cymric
Lynda Du Vallier & Michael Auld
Wynnum West 4178 (Brisbane Metro Area)

0414 692 831
Tinytails Manx & Cymric cats are bred by Michael Auld, a Veterinarian of 40 yrs and his partner Lynda Du Valllier, Practice Manager and Vet Nurse. This unique breed has its heritage in the ancient "Isle of Man". With imported lines, you will own the best looking Manx & Cymric kitten! Rumpies, stumpies and long tailed kittens are available throughout the year. Short and longhaired (Cymrics). Cute without a tail, intelligent, playful and great for families. Manx are extremely affectionate and are known as the Puppies of the cat world! Mike and Lynda understand the extra attention a rare breed of cats needs and have the facilities to increase the gene pool of this magnificent breed in Australia. The kittens get the best of attention and care this rare breed deserves.

DEVON REX
Kittams Devon Rex
Susan Hooper
Eagleby 4207 (Brisbane Metro Area)
07 3133 1316
0412 724 760
Breeder of quality Devon Rex cats for show, breeding and loving family pets.

Logan City Council Breeder Permit No RS/BREED/4093
Glamorex Devon Rex
Chantelle Lloyd
Robina (Gold Coast Area)
07 5593 1598
0415 988989
If a Devon is a breed you would like to know more about........
I am more than happy for you to phone or email me so I can share my passion for Devons with you.

Having decided you need a
a. Interactive
b. Quirky
Low Maintenace and loyal friend
Then a DEVON is for you!
Viewing by appointment
Lotalovin Devon Rex
Trudy Bale
Northern Deep Creek (Country Area)
0409 548 366
0409 548 366
Nestled in rural bushlands on Gympie's outskirts all our kittens are bred for personality, health and are of outstanding quality. All babies are born and reared inside in a family situation and ready for adoption. Find us on Facebook - Trudy Bale.
Javek Devon Rex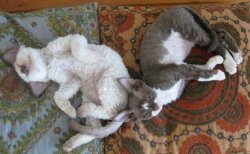 Jill Veivers
Ashmore (Gold Coast Area)
0755 391055

Definately different a Devon Rex is a cat that is unique. Short curly coats make the Devon Rex low maintenance and low allergy. They are fun to own being both playful and intelligent. No home is complete without one. Contact Jill for availability of kittens. They come in most colours and all have personality plus.
EXOTIC
Mybenj Persians & Exotics
Ann Orrock
Gold Coast (Gold Coast Area)
5543 5566
0417 048 541
We are situated in the Tamborine Village area. We breed bi-colour and solid Persians and Exotics also Chinchillas. Our kittens are born and raised in our home. They are well socialised and make perfect pets, show kittens available sometimes.
Jandindi Persians & Exotics
Joanne Lloyd
Fernvale (Brisbane Metro Area)
07 5426 7145
0422 014 555
Jandinda is situated in the south-east qld countryside of Fernvale, just 17 klms from Ipswich. Breeder of the beautiful natured silver shaded chinchilla Persian and Exotic cats with green coloured eyes with the distinctive black eye liner rim. My kittens are raised in the house so that the transitions to a new home will not upset the new kitten. They are toilet trained, vaccinated, microchipped and desexed before joining their new loving forever homes.
PUSSYFOOT EXOTIC & PERSIAN
Annette Swifte
Mackay (Country Area)

0417 614 876
Welcome to Pussyfoot, I have a small cattery residing in tropical Queensland breeding Exotic's N Persians in an
array of colours in solids, bi-colours and tabbies, specialising in dilutes. All my kittens are raised underfoot in a very
loving environment, I breed for quality not quantity with nice open expressions and beautiful natures. If you are after a lil treasure for a companion, show kitten don't hesitate to contact me
FOREIGN WHITE
Sukra Oriental, Siamese & Foreign Whites
Vanna & Anthony Wilder
Mount Warren Park 4207 (Brisbane Metro Area)

0438 149 148
Small breeder of Siamese, Balinese, Orientals & Foreign White shorthair/longhair for beloved pet and show. Lovingly raised as our own. Please visit our website for more information.
KORAT
Ratchasima (Aust) Korats
Elaine Vincent
Clothiers Creek 2484 (Northern NSW Area)
02 6677 7586

Originally from the Northern Territory, we are now located in the Tweed Valley close to the Gold Coast Airport and have been breeding Korats since 1991. Raised with love and sold with regret, our kittens are housed reared, handled frequently from birth with health and sound temperament our priority. Visitors are most welcome by appointment.
LAPERM
Frisson La Perms
Anne–Louise Magee
Eatons Hill (Brisbane Metro Area)
07 3264 2642
0438 177337
Active, intelligent and very loving, the curly coated LaPerm will steal your heart. They love to follow you about and hop on your knee when you sit down. Their semi longhair coats are low shedding, don't mat or require any grooming. They come in any colour possible in a cat, including the new pattern karpati from Eastern Europe, which is exclusively at Frisson Cattery in Australia. Please see our website for more information and details of available cats and kittens of this rare breed, or our facebook page, Frisson Cats.

Moreton Council AN/4149/2013/EAP