MAINE COON
Yendor Maine Coons
Margaret Sharpe
Caboolture (Sunshine Coast Area)
07 5428 1677
0417 281 675
Breeding Maine Coons for quality and health. Specialising in blacks/silvers, sometimes reds and mostly with white. All kittens are desexed as a pet before leaving. Show and breeders sometimes available.

Moreton Shire Council Breeders Permit - AN7035/2016/BAP
MANDALAY
Bahati Mandalays
Carissa Dyett
Burpengary 4505 (Brisbane Metro Area)
07 3888 1119
0439 030 939
We are a small cattery dedicated to the breeding of beautiful, affectionate and the highest quality kittens. A Bahati kitten is raised with the highest standard of cleanliness and health, they are lovingly cared for and are well socialised in an indoor environment. All kittens are desexed, vaccinated and microchipped prior to going to their new home. All breeding cats have been DNA tested. Enquiries welcome.
ORIENTAL
Jesseniah Siamese
Leigh McInnes
Miami (Gold Coast Area)
07 5575 5214
0403 295 475
Quality Kittens
Wonderful temperaments
Boutique cattery
Quality not Quantity
Varied colours of Siamese and Orientals
Desexed before leaving home
2 x vacc and microchipped
Must be inside only or access to a secure run

Malu Orientals & Siamese
Lynda & Mark Roper
Burleigh Waters 4220 (Gold Coast Area)
0437227214


Our kittens are home raised with excellent temperaments and personalities. We breed for show, pets and breeding.

Gold Coast City Council Breeder Permit Number GC 7552389
PERSIAN
Jandindi Exotic Shorthairs & Persians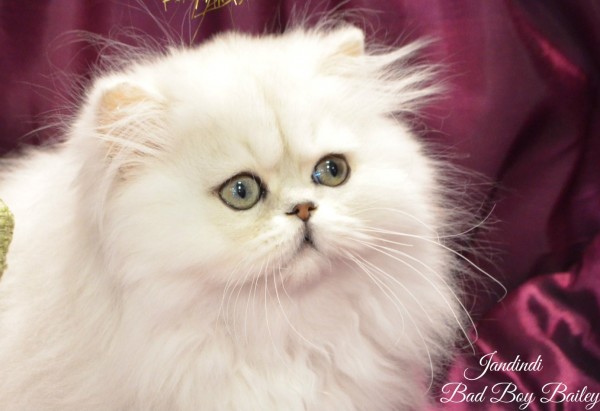 Joanne Lloyd
Fernvale (Brisbane Metro Area)
07 5426 7145
0422 014 555
Jandindi is situation in the south-east countryside of Fernvale, just 17 klms from Ipswich.
Breeder of the beautiful chinchilla, shaded silver and golden shaded Persian and exotic cats with green coloured eyes with the distinctive black eye liner rim. My kittens are raised in the house so that the transitions to a new home will to upset the new kittens. They are toilet trained, vaccinated, microchipped and desexed before joining their new loving forever homes.
Pussyfoot Exotic & Persians
Annette Swifte
Mackay (Country Area)

0417 614 876
Welcome to Pussyfoot, I have a small cattery residing in tropical Queensland breeding Exotic's N Persians in an
array of colours in solids, bi-colours and tabbies, specialising in dilutes. All my kittens are raised underfoot in a very
loving environment, I breed for quality not quantity with nice open expressions and beautiful natures. If you are after a lil treasure for a companion, show kitten don't hesitate to contact me
Mybenj Exotics & Persians
Ann Orrock
Gold Coast (Gold Coast Area)
5543 5566
0417 048 541
We are situated in the Tamborine Village area. We breed bi-colour and solid Persians and Exotics also Chinchillas. Our kittens are born and raised in our home. They are well socialised and make perfect pets, show kittens available sometimes.
RAGDOLL
Softnsweet Ragdolls
Kim Johnston
Mudgeeraba (Gold Coast Area)


Home of Softnsweet Ragdoll cats on the Gold Coast, Queensland, Australia.
One of my goals is to have enriched the life of each kitten with exposure and socialization so it can enjoy it's life. Combining this with selectively breeding true Ragdoll temperament to provide the best possible companion to you.
Tipasheena Ragdolls
Jo–Anne & Russell Clarke
Tewantin (Sunshine Coast Area)
5447 1588
0417 538 862
We are boutique breeders of the magnificent Ragdoll Cat and are situated in the picturesque township of Noosa, on the Sunshine Coast, in Queensland.
We are registered with the Queensland Feline Association 1320, and are dedicated to breeding beautiful, well adjusted, affectionate Ragdoll kittens with exceptional health and type. All parents DNA tested for HCM and PDK , FELV/FIV tested.
All our babies are raised in our home and are a very important part of our family.
Our kittens receive two vaccinations, Microchipped, 6 weeks free pet insurance and our pet kittens are all spay/neutered.
We have carefully selected quality Australian and Imported lines for our small in-home cattery.
We regularly attend cat shows, which ensures our cats and kittens are held to the true Ragdoll standard.

Angeleyes Ragdolls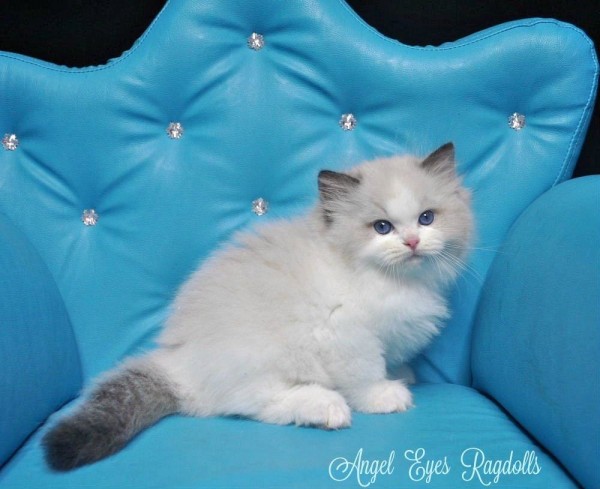 Steve & Chris Landers
Maroochydore (Sunshine Coast Area)


Angel Eyes Ragdolls Why? Because everyone needs an angel..... We aim to raise healthy, cheeky, blue eyed balls of fluff, underfoot in our home for your enjoyment. Please remember Ragdolls are indoors only. So if you are wanting a cat that can roam our kittens won't be going to your home!

angel-eyes@westnet.com.au
Rolypoly Ragdolls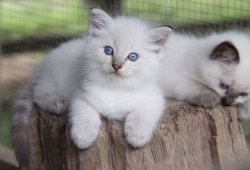 Annette Blakey
Tallebudgera (Gold Coast Area)
07 5533 8607
0405 508 068
Registered breeder of beautiful pedigree Ragdolls with sweet natures. Home reared and well socialised. We breed for health, type and temperament. Kittens are desexed, vet checked, microchipped and vaccinated.