BURMILLA
Bahati Burmillas
Carissa Dyett
Burpengary 4505 (Brisbane Metro Area)
07 3888 1119
0439 030 939
We are a small cattery dedicated to the breeding of beautiful, affectionate and the highest quality kittens. A Bahati kitten is raised with the highest standard of cleanliness and health, they are lovingly cared for and are well socialised in an indoor environment. All kittens are desexed, vaccinated and microchipped prior to going to their new home. All breeding cats have been DNA tested. Enquiries welcome.
Shezarda Burmillas
Valerie Stewart
Greenbank 4124 (Brisbane Metro Area)
07 3297 5709
0404 027 781 (Txt)
Shezarda Burmilla Cattery was QFA approved in 1999. My aim has been to breed strong, healthy kittens of the best possible standard. Kittens are available occasionally for pets, showing and to breeders with an approved Burmilla breeding program.
"HAPPILY DEDICATED TO THE NEVER ENDING PURSUIT OF AN IDEAL".
Abytales Burmillas
Joan McClintock
Edmonton Cairns (Country Area)
07 4045 4047

Dedicated to breeding short and longhaired Burmillas in black and brown shaded or tipped silvers. Kittens lovingly raised in my home to be well socialized. Pet kittens are sold desexed, vaccinated and microchipped. Striving to breed the ideal Burmilla with an approved Burmilla Breeding Program.
CYMRIC
TINYTAILS MANX & CYMRIC
Lynda DuVallier & Michael Auld
Wynnum West 4178 (Brisbane Metro Area)

0414 692831
We adore our Manx & Cymric kittens and cats and have been breeding hem for 6 years. All are raised in our home and are socialised to fit into any home. Manx are the cats who think they are dogs. Very loyal and loving. All come fully vaccinated, microchipped, desexed and pedigree papers. Once you own a anx no other cat will do.
DEVON REX
Lotalovin Devon Rex
Trudy Bale
Northern Deep Creek (Country Area)
0409 548 366
0409 548 366
Nestled in rural bushlands on Gympie's outskirts all our kittens are bred for personality, health and are of outstanding quality. All babies are born and reared inside in a family situation and ready for adoption. Find us on Facebook - Trudy Bale.
Kittams Devon Rex
Susan Hooper
Eagleby 4207 (Brisbane Metro Area)
07 3133 1316
0412 724 760
Breeder of quality Devon Rex cats for show, breeding and loving family pets.

Logan City Council Breeder Permit No RS/BREED/4093
Glamorex Devon Rex
Chantelle Lloyd
Robina (Gold Coast Area)
07 5593 1598
0415 988989
If a Devon is a breed you would like to know more about........
I am more than happy for you to phone or email me so I can share my passion for Devons with you.

Having decided you need a
a. Interactive
b. Quirky
Low Maintenace and loyal friend
Then a DEVON is for you!
Viewing by appointment
Javek Devon Rex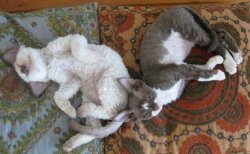 Jill Veivers
Ashmore (Gold Coast Area)
0755 391055

Definately different a Devon Rex is a cat that is unique. Short curly coats make the Devon Rex low maintenance and low allergy. They are fun to own being both playful and intelligent. No home is complete without one. Contact Jill for availability of kittens. They come in most colours and all have personality plus.
EXOTIC
Jandindi Exotic Shorthairs & Persians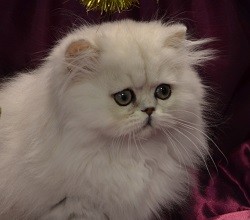 Joanne Lloyd
Fernvale (Brisbane Metro Area)
07 5426 7145
0422 014 555
Jandinda is situated in the south-east qld countryside of Fernvale, just 17 klms from Ipswich. Breeder of the beautiful natured silver shaded chinchilla Persian and Exotic cats with green coloured eyes with the distinctive black eye liner rim. My kittens are raised in the house so that the transitions to a new home will not upset the new kitten. They are toilet trained, vaccinated, microchipped and desexed before joining their new loving forever homes.
Teddybear Exotic Shorthairs & Persians
Deanna Watts
Tamborine (Brisbane Metro Area)
5543 8452
0451 288 972
Registered breeders of quality Exotic Shorthairs & Persians. Our cats are raised underfoot and socialised in a loving family environment. Our kittens are guaranteed to be healthy, sound and have loving personalities. TeddyBear is a PKD negative cattery. All enquiries welcome
Mybenj Exotic Shorthairs & Persians
Ann Orrock
Gold Coast (Gold Coast Area)
5543 5566
0417 048 541
We are situated in the Tamborine Village area. We breed bi-colour and solid Persians and Exotics also Chinchillas. Our kittens are born and raised in our home. They are well socialised and make perfect pets, show kittens available sometimes.
Pussyfoot Exotic Shorthairs & Persians
Annette Swifte
Mackay (Country Area)

0417 614 876
Welcome to Pussyfoot, I have a small cattery residing in tropical Queensland breeding Exotic's N Persians in an
array of colours in solids, bi-colours and tabbies, specialising in dilutes. All my kittens are raised underfoot in a very
loving environment, I breed for quality not quantity with nice open expressions and beautiful natures. If you are after a lil treasure for a companion, show kitten don't hesitate to contact me