BRITISH SHORTHAIR
Idreamof British Shorthairs
Steffanie Curran
Bundamba 4304 (Brisbane Metro Area)

0458 717123
As a small boutique cattery situated in Ipswich, our cats are an extension of our family who delight us with little bundles of fury love which we refer to as "grandkittens". We breed for quality and distinction not quantity. This ensures that each kitten receives plenty of individual attention, with lots of love and heaps of cuddles. We breed the Blue, unusual Colourpoint and the gorgeous Bi-Colour British Shorthair. We are proud to be breeders of gorgeous, health, family orientated British Shorthair cats and kittens, who are packed full of love and purr-sonality.
BURMESE
Belshogar Burmese
Marisa Thistlewaite
Joyner 4500 (Brisbane Metro Area)

0408 630082
Breeding the beautiful Burmese with lots of special love and passion. We take a lot of pride in our breeding, with all our cats DNA tested for any genetic defects that are available to test for and in my nearly 30 years of breeding cats we always select for temperament and health. We are located in Joyner which is 10mins from Strathpine. Please phone to make an appointment to meet our beautiful Burmese family as we generally have kittens available or on the way most of the year or you maybe interested in an adult Burmese when we retire our breeding girls as we want special loving indoor homes for their retirement.

Search for us on Facebook as we post lots of photos and videos - Our Facebook page is Burmese by Belshogar
Oramor Burmese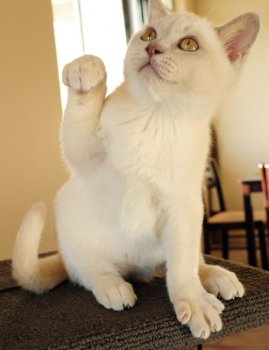 Mrs Sue Flavel
Tinana 4650 (Country Area)
07 4121 3538
0447 983538
Oramor Burmese kittens provide you with companionship, unconditional love and affection. Sue has been breeding top quality Siamese Kittens for many years under the registered Prefix ORAMOR in Maryborough, Queensland and has gained the respect as being a reputable and extremely responsible and dedicated cat breeder. Sue's primary aim is to breed healthy, robust kittens with loving, people-oriented, ultra-affectionate purrsonalities. The health and well-being is paramount as her website will testify. Burmese & Siamese kittens are lovingly raised with pride and your happiness at heart. We don't just sell kittens, sound advice and after sale support is offered. Visit my website and blog sites for further information. Local Council Permit No. C956550
Kittykatz Burmese
Trevor Cox & Ray Clark
Bray Park 4500 (Brisbane Metro Area)
07 3882 0276
0438 779 561
Breeders of quality Burmese kittens available for show, breeding or loving family pets. All our breeding cats have been tested for the Burmese genetic disorder Hypokalemia. All our kittens are vet checked, micro chipped and vaccinated before going to new homes. Come and meet our feline family. Visitors welcomed by appointment.

Moreton Bay Regional Council Permit No: AN/1488/2009/BAF
Amberville Burmese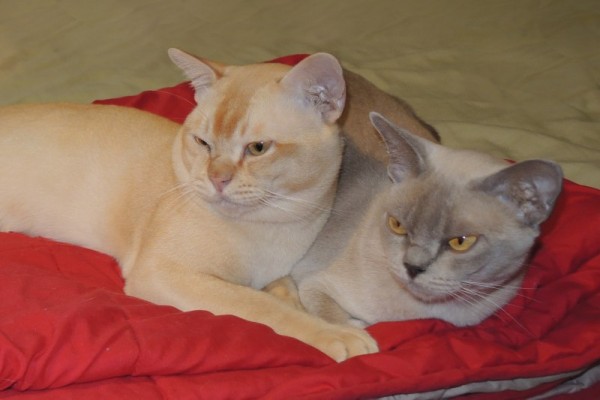 Martina Mitchell
Holloways Beach (Country Area)
07 4037 0209
0404 527752
Are you looking for an affectionate and intelligent companion? Burmese need human interaction and lots of love; they are mischievous and playful, affectionate and trusting. Their favourite spot will be in your arms or on your lap. Amberville are experienced and passionate. We started breeding in 1989. Our cats are QFA registered and bred or type, health and most importantly temperament. Our Burmese are much loved family pets and our kittens are reared in our home with greatest love and affection. Occasionally offering family raised kittens for adoption to suitable new mums and dads. Stud and kitten enquires welcome.
Barbiekatz Burmese
Barbara Cox
Griffin 4503 (Brisbane Metro Area)

0432 369 720
Barbiekatz Burmese kittens are raised in a loving family home with children. They are well socialised with the whole family and other pets. Before going to their new homes our kittens are fully litter trained, vet checked, vaccinated and microchipped. After sales advice and support is offered whenever possible. All our breeding cats have been tested for the Burmese genetic disorder Hypokalemia. Visitors are welcome to come and meet our beautiful cat family by appointment.
Riokay Burmese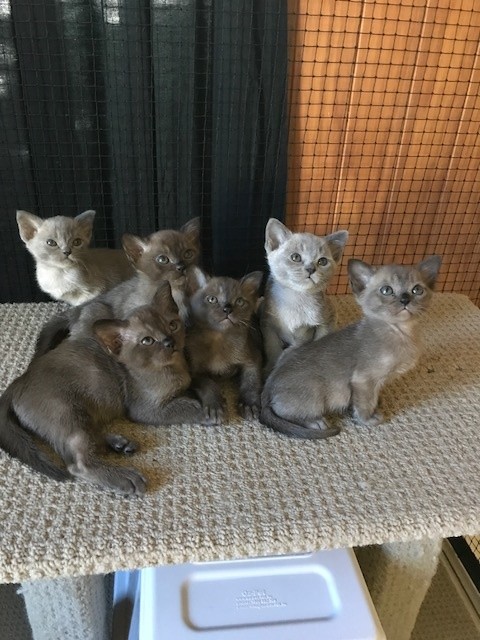 Barbara La Rocca
Ashmore 4214 (Gold Coast Area)
07 5527 8188
0411 427 106
My small boutique breeding program allows me to devote a lot of time to raising my babies with lots of handling, socialisation and love. I have been a registered breeder of Burmese since 1984. I only breed the 4 main colours which are Brown, Blue, Chocolate and Lilac and kittens are available throughout the year, including winder. My kittens are born in my home and raised underfoot with due care and attention to good nutrition through a well balanced natural diet. My babies run to me to be picked up and are also aware there are dogs in the world as I have a toy poodle. All pet kittens are desexed, microchipped, vaccinated, wormed and health checked by a vet prior to sale and come with a 10 day money back guarantee on their general health. Conditions apply. They also come with a 6 week free Pet Plan insurance. All breeding cats used in my breeding program have either been tested for any known genetic disorders, or have come from parents who have been tested and are not carriers of the genetic disorder, where DNA testing is available and where there has been evidence that the problem exits in Australia. My breeding lines are free from Burmese Hypokalemia (HK). I have a breeder permit with the Gold Coast City Council Permit No GC PBB7564550.
Burabylla Burmese
Bob Campbell
Logan (Brisbane Metro Area)
07 3200 8332

Breeding Burmese and Burmilla since 2000, we have bred many wonderful family pets through the years.

All of our kittens are born, raised and socialised in our home, vet-checked, vaccinated, desexed and microchipped before they leave us. Our Burmese breeding cats are all DNA tested negative for Hypokalemia. Our Burmilla breeding cats are all DNA tested negative for PKD and Hypokalemia.
Bahati Burmese
Carissa Dyett
Burpengary 4505 (Brisbane Metro Area)
07 3888 1119
0439 030 939
We are a small cattery dedicated to the breeding of beautiful, affectionate and the highest quality kittens. A Bahati kitten is raised with the highest standard of cleanliness and health, they are lovingly cared for and are well socialised in an indoor environment. All kittens are desexed, vaccinated and microchipped prior to going to their new home. All breeding cats have been DNA tested. Enquiries welcome.
Jemville Burmese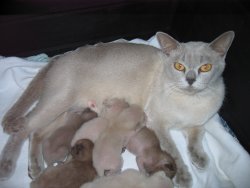 Jenny Miller
Gympie 4570 (Brisbane Metro Area)

0412 255 925
One of the great pleasures in my life is breeding quality Burmese for showing, and, just as importantly, as wonderful companions for families to enjoy this beautiful breed. My bubs are bred in a healthy indoor/outdoor environment, fully socialized, registered, vet checked, microchipped, wormed regularly, litter trained, and are bred from stock that are HK (Hypokalemia) free. AII kittens come with a comprehensive brochure, litter and food. Visitors are always welcome.
Lushei Burmese
Barbara Ackerman
North Arm 4561 (Sunshine Coast Area)
07544 68557
0410 568974
Lushei Burmese Stud is a beautifully built well maintained breeding cattery situated 90 minutes north of Brisbane. It covers over 300sq metres of gardens, trees, climbing towers, cubby houses and water feature. Our Queens are free to roam the fully enclosed cat enclosure in safety and comfort. Kittens available. Visitors are most welcome....... Come Sit with our girls and enjoy watching their babies at play.
Mooloosa Burmese
Kristy Hauser
Mooloo 4570 (Sunshine Coast Area)

0419 742962
Welcome to Mooloosa, breeders of beautiful Burmese cats. We have owned Burmese for 15 years and just can't get enough of them. We love their playful personalities and smoochy cuddles. Our cats live in our house with us as do the kittens. As a result we have super friendly, confident and well socialised babies when they go to there new homes. Our kittens are of course checked at least once by the vet, microchipped, vaccinated, wormed, litter trained, fully weaned and free of fleas when they go to their new homes. We are located in the Mary Valley, 1 hour from the Sunshine Coast and 20 mins south of Gympie. We love showing off our lovely cats, you are more than welcome to visit them by appointment.