BALINESE
Starpoint Balinese & Oriental & Siamese

(Brisbane Metro Area)


BURMILLA
Shezarda Burmillas
Valerie Stewart
Greenbank 4124 (Brisbane Metro Area)
07 3297 5709
0404 027 781 (Txt)
Shezarda Burmilla Cattery was QFA approved in 1999. My aim has been to breed strong, healthy kittens of the best possible standard. Kittens are available occasionally for pets, showing and to breeders with an approved Burmilla breeding program.
"HAPPILY DEDICATED TO THE NEVER ENDING PURSUIT OF AN IDEAL".
Burabylla Abyssinian/Burmese/Burmilla

(Brisbane Metro Area)


RAGDOLL
SOFTNSWEET RAGDOLL
Kim Johnston
Mudgeeraba (Gold Coast Area)


Home of Softnsweet Ragdoll cats on the Gold Coast, Queensland, Australia.
One of my goals is to have enriched the life of each kitten with exposure and socialization so it can enjoy it's life. Combining this with selectively breeding true Ragdoll temperament to provide the best possible companion to you.
ANNELINA RAGDOLL
Joanne
Mundoolun (Brisbane Metro Area)


We are a small breeder of the super sweet Ragdoll cats and breed for their temperament and gorgeous looks.

Our breeding cats are DNA tested and clear from HCM and PKD.

All kittens are born and raised in our family home and are very well socialised around children and life's everyday sounds.

All kittens are microchipped, twice vaccinated, desexed, come with 6 weeks pet insurance, pedigree papers and more!

We are located about 10 minutes from the base of Tamborine Mountain.

Any questions and enquiries are welcome, so contact us to find your new furry best friend :)
ANGELEYES RAGDOLL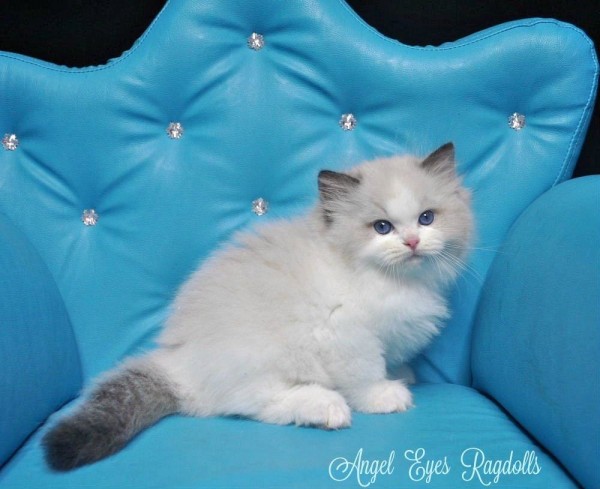 Steve & Chris Landers
Maroochydore (Sunshine Coast Area)


Angel Eyes Ragdolls Why? Because everyone needs an angel..... We aim to raise healthy, cheeky, blue eyed balls of fluff, underfoot in our home for your enjoyment. Please remember Ragdolls are indoors only. So if you are wanting a cat that can roam our kittens won't be going to your home!

angel-eyes@westnet.com.au
ROLYPOLY RAGDOLL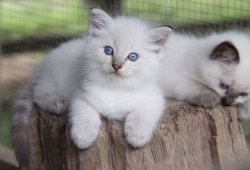 Annette Blakey
Tallebudgera (Gold Coast Area)
07 5533 8607
0405 508 068
Registered breeder of beautiful pedigree Ragdolls with sweet natures. Home reared and well socialised. We breed for health, type and temperament. Kittens are desexed, vet checked, microchipped and vaccinated.
ROYALEKATZ RAGDOLL
Sharon Turner
(Brisbane Metro Area)
07 3297 1002
0421 459 495
We are proud owner/breeders of our lovely Ragdolls.
All of our breeders are carefully chosen for temperament and DNA tested clear of all hereditary diseases tested for this breed.
Our kittens are well socialised and used to dogs as we are also dog breeders of the beautiful British Bulldogs and Pugs.
We have been Registered breeders of Ragdolls for 20 years now.
Please call, text or email for any further questions.
KAMARIA RAGDOLLS & SIBERIAN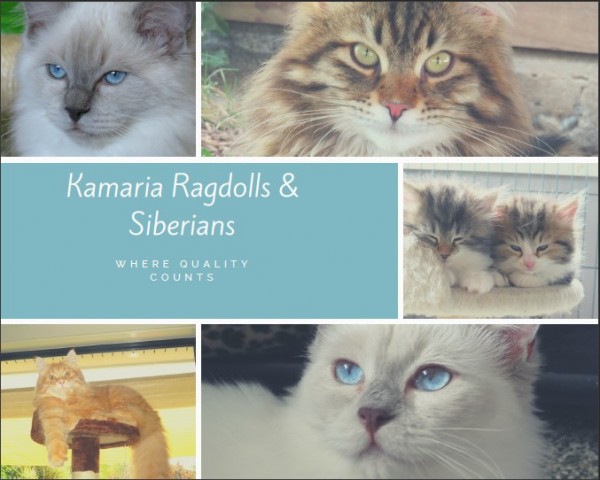 Mary West
Townsville (Brisbane Metro Area)

0407 696 377
When Only Quality Will Do !

We Breed to achieve optimal health and temperament.

Beautiful cats full of personality.

All health testing done to give us healthy kittens.

We are the only Siberian Breeder north of Brisbane
ROYALT RAGDOLL
Samantha Searle
Gympie (Country Area)

0427 833 620
We are a small cattery with all of our babies raised in our home as part of the family. Our kittens have wonderful temperaments and come with all of the vet work already done by 12 weeks of age. Their pedigree papers are also supplied.
All of our adult stock have been cleared for the HCM & PKD (heart and kidney disease).
Please feel free to contact or come see us at a local show.
ROYALRICKS RAGDOLL
Gaye Crimmins
Chermside (Brisbane Metro Area)

0404 391 976