BOMBAY
Jemville Bombays
Jenny Miller
Gympie 4570 (Brisbane Metro Area)

0412 255925
The Bombay is quite a rare breed in Australia, but they are the most affectionate, lovable clowns to own. Similar to the Burmese in temperament, Bombays are a cat, a dog, a monkey, all rolled up into one breed. Highly intelligent, good with children, they have the most beautiful short, black, shiny coat and big gold eyes that literally invite you to stroke them. The Bombay breed originated in the USA in the early 50's, and are more well known in America, Europe and Russia. There are only a handful of them in Australia. As with my Burmese kittens, these bubs also come with 2 vaccinations, 2 vet checks, microchipped, desexed, registered with QFA, wormed regularly, fully litter trained, and come with food, litter and a brochure covering all aspects of their wellbeing. Kittens are rare, so a waiting period would be needed if you wish to purchase one of these magnificent creatures.
BRITISH SHORTHAIR
Furdinkum British Shorthairs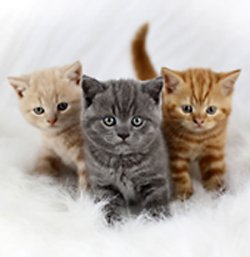 Tracey Bill
Upper Caboolture 4510 (Brisbane Metro Area)

0447 740 940
Located in Upper Caboolture, Furdinkum is a boutique, home-based cattery breeding from quality, registered British Shorthair stock.

We breed a variety of colours including bi-colours. Kittens are born and raised in my home and are used to household noises and dogs.

Moreton Bay Regional Council Breeder Permit No: AN/1828/2010/BAP
Blueprints British Shorthairs
Kylie Terlier
Bundaberg 4670 (Country Area)


Blueprints British Shorthair are a small boutique style breeder focused on producing kittens of quality and type with a loving temperament to match. Our kittens are born and raised inside our home and receive constant love and attention. Blueprint babies are well socialised with kids, cats and a busy family life. We breed blues, lilacs and bi-colours and enquiries are always welcome.


Bellashai British Shorthair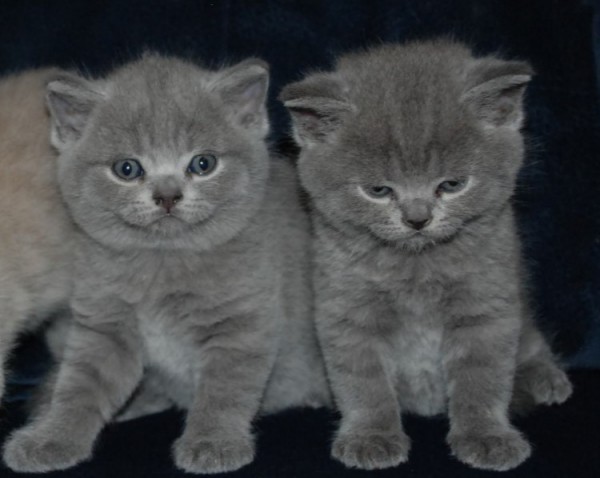 Rodney Hill
Cedar Vale 4285 (Brisbane Metro Area)

0410 117164
Bellashaicats breed British Shorthairs, Scottish Folds and Scottish Shorthairs. Kittens are available at 12 weeks old, socialised in a family environment on an acreage property. Fully vaccinated, vet checked and desexed. We can arrange travel to all capital cities and most other areas. A wide range of colours and patterns include; Blue, Lilac, Chocolate, Cream, Red, Black, Torties, Tabbies, Bi-Colours and Colourpoints. We welcome all enquiries by phone, email or Facebook: Bellashai British Cattery
BURMESE
Chattan Burmese
Jan Wylie
Windsor 4030 (Brisbane Metro Area)
07 3857 2743
0468 948 251
Chattan Burmese have been exported to USA, England, Hungary, Italy, Indonesia, Noumea, New Zealand, and all Australian States. Chattan Burmese have won many major awards including Kitten of the Year and Cat of the Year. Chattan Burmese have been bred and exhibited for over 20 years by Jan Wylie an International Cat Judge who is absolutely besotted with these magnificent cats.
Favori Burmese
Barbara & Malcolm Taylor
Glasshouse Mountains 4518 (Sunshine Coast Area)
0754 969155

We are breeding beautiful Burmese, from champions and champion bloodlines, with great temperaments, affectionate and outgoing. All are in home born and reared. They are good examples of the breed and delight all visiting us to see our babies. We have kittens for sale and available in many colours most of the time and they all get all the necessities for making them great pets.
Riokay Burmese
Barbara La Rocca
Ashmore 4214 (Gold Coast Area)
07 5527 8188
0411 427 106
My Small boutique breeding program allows me to have kittens of 4 different colours which are available at various times during the year, including winter. Kittens are born in my home and raised underfoot with care and attention to their proper nutrition. They receive a well balanced diet and lots of socialisation and are well accustomed to human handling and a toy poodle. Pet kittens will be desexed, microchipped, vaccinated, wormed and health checked by a vet prior to sale, and 6 week free PetPlan insurance. Professional dry food samples come with your kitten (not supermarket). My breeding lines are free from Burmese Hypokalemia (HK). Breeder permit is with the Gold Coast City Council Permit No GC PBB7564550.
Fayrpaw Burmese
Luella Price
The Gap 4061 (Brisbane Metro Area)
07 3300 0362
0435 549 413
We are based in Brisbane and breed brown, blue, lilac and chocolate Burmese. Our Stud cat and our Queens have wonderful temperaments which they pass on to their kittens. Our Stud achieved Cat of The Year and Best Burmese Cat in 2004 and 2005. Although they live indoors they have a sunny outside play area and are well socialised.
Jemville Burmese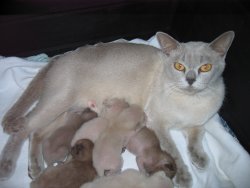 Jenny Miller
Gympie 4570 (Brisbane Metro Area)

0412 255 925
One of the great pleasures in my life is breeding quality Burmese for showing, and, just as importantly, as wonderful companions for families to enjoy this beautiful breed. My bubs are bred in a healthy indoor/outdoor environment, fully socialized, registered, vet checked, microchipped, desexed, wormed regularly, litter trained, and are bred from stock that are HK (Hypokalemia) free. AII kittens come with a comprehensive brochure, litter and food. Visitors are always welcome.
Aztec Burmese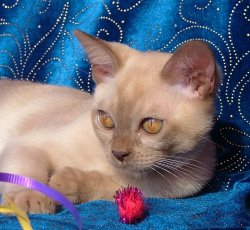 Stephanie Wise
Elimbah 4516 (Sunshine Coast Area)
07 5432 8010
0413 837 983
Welcome to Aztec Burmese.

Here at Aztec we pride ourselves in breeding happy healthy kittens who love cuddles, to play and explore!

To view up to date photos of our beautiful cats and kittens please view our Facebook page Aztec Burmese and Tonkinese
All Stud, Cat and Kitten Enquires welcome.

Moreton Bay Regional Council Breeder Permit No AN/1011/2009/BAP

Like Us On Facebook

Bahati Burmese
Carissa Dyett
Burpengary 4505 (Brisbane Metro Area)
07 3888 1119
0439 030 939
We are a small cattery dedicated to the breeding of beautiful, affectionate and the highest quality kittens. A Bahati kitten is raised with the highest standard of cleanliness and health, they are lovingly cared for and are well socialised in an indoor environment. All kittens are desexed, vaccinated and microchipped prior to going to their new home. All breeding cats have been DNA tested. Enquiries welcome.
Taramis Burmese
Nancy Thornton
Cashmere (Brisbane Metro Area)

0439 672 060
Taramis is a small home-based cattery. My focus is raising healthy kittens with great temperaments. Because they are raised in the home they become accustomed to everyday activities and noises. All my breeding cats have been DNA tested and are negative for HPK. Burmese are a wonderfully affectionate, cuddly and playful breed.
Inquiries always welcome.