BURMESE
Favori Burmese
Barbara & Malcolm Taylor
Glasshouse Mountains 4518 (Sunshine Coast Area)
0754 969155

We are breeding beautiful Burmese, from champions and champion bloodlines, with great temperaments, affectionate and outgoing. All are in home born and reared. They are good examples of the breed and delight all visiting us to see our babies. We have kittens for sale and available in many colours most of the time and they all get all the necessities for making them great pets.
Please call us on the landline if you can.
Council Permit # AAP 14/0313
Oramor Burmese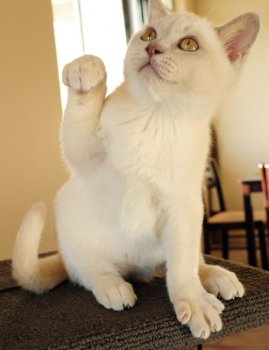 Mrs Sue Flavel
Tinana 4650 (Country Area)

0447 983538
Sue has been breeding top quality Burmese & Siamese Kittens for many years under the registered prefix "ORAMOR" in Maryborough, Queensland, Australia and has gained the respect as being a reputable and extremely responsible and dedicated cat breeder. Sue's primary aim is to breed healthy, robust kittens with loving, people-oriented, ultra-affectionate purrsonalities. The health and well-being of Sue's cats/kittens is paramount as her web site will testify!
Sue's Burmese & Siamese Kittens are lovingly raised with pride and your happiness at heart!
We don't just sell kittens, sound advice and after sale support is offered by "Oramor"
Satisfied Customers world wide.
Oramor is happy to arrange international deliveries.

Find us on Facebook
www.facebook.com/groups/BurmeseSiamese
Riokay Burmese
Barbara La Rocca
Ashmore 4214 (Gold Coast Area)
07 5527 8188
0411 427 106
My Small boutique breeding program allows me to have kittens of 4 different colours which are available at various times during the year, including winter. Kittens are born in my home and raised underfoot with care and attention to their proper nutrition. They receive a well balanced diet and lots of socialisation and are well accustomed to human handling and a toy poodle. Pet kittens will be desexed, microchipped, vaccinated, wormed and health checked by a vet prior to sale, and 6 week free PetPlan insurance. Professional dry food samples come with your kitten (not supermarket). My breeding lines are free from Burmese Hypokalemia (HK). Breeder permit is with the Gold Coast City Council Permit No GC PBB 7564550.
Lushei Burmese
Barbara Ackerman
North Arm 4561 (Sunshine Coast Area)
07544 68557
0410 568974
Lushei Burmese Stud is a beautifully built well maintained breeding cattery situated 90 minutes north of Brisbane. It covers over 300sq metres of gardens, trees, climbing towers, cubby houses and water feature. Our Queens are free to roam the fully enclosed cat enclosure in safety and comfort. Kittens available. Visitors are most welcome....... Come Sit with our girls and enjoy watching their babies at play.
Aztec Burmese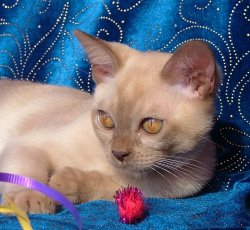 Stephanie Wise
Elimbah 4516 (Sunshine Coast Area)
07 5432 8010
0413 837 983
Welcome to Aztec Burmese.

Here at Aztec we pride ourselves in breeding happy healthy kittens who love cuddles, to play and explore!

To view up to date photos of our beautiful cats and kittens please view our Facebook page Aztec Burmese and Tonkinese
All Stud, Cat and Kitten Enquires welcome.

Moreton Bay Regional Council Breeder Permit No AN/1011/2009/BAP

Like Us On Facebook

Taramis Burmese
Nancy Thornton
Cashmere (Brisbane Metro Area)

0439 672 060
Taramis is a small home-based cattery. My focus is raising healthy kittens with great temperaments. Because they are raised in the home they become accustomed to everyday activities and noises. All my breeding cats have been DNA tested and are negative for HPK. Burmese are a wonderfully affectionate, cuddly and playful breed.
Inquiries always welcome.
Arells Burmese
Ella Feininger
Warwick (Country Area)

0412 323 394
We are a small, in-home cattery that exclusively breeds Burmese cats. Our breeding goals are to breed healthy highest quality Burmese kittens, without HD defect and to keep the Burmese personality from extinction. We are very careful about where we place our kittens. We want to to make sure that our kittens are going to homes that will give them the love they need. My family and I hold and play with our cats and kittens every day. Our kittens go to new homes vet checked, vaccinated, microchipped and litter trained.
Awisker Burmese & Tonkinese

(Brisbane Metro Area)


Beauteous Burmese

(Brisbane Metro Area)


Brampets Burmese

(Brisbane Metro Area)


Deneden Burmese

(Brisbane Metro Area)


Eirian Burmese

(Brisbane Metro Area)