BURMESE
Arells Burmese
Ella Feininger
Warwick (Country Area)

0412 323 394
We are a small, in-home cattery that exclusively breeds Burmese cats. Our breeding goals are to breed healthy highest quality Burmese kittens, without HD defect and to keep the Burmese personality from extinction. We are very careful about where we place our kittens. We want to to make sure that our kittens are going to homes that will give them the love they need. My family and I hold and play with our cats and kittens every day. Our kittens go to new homes vet checked, vaccinated, microchipped and litter trained.
Bootlace Burmese and Russian
Louise Drew
Finch Hatton , Via Mackay (Country Area)
07 49583221
0417 702 584
Belshogar Burmese
Marisa Thistlewaite
Joyner (Brisbane Metro Area)

0408630082
I have been breeding for nearly 30 years and so a lot of experience goes into the welfare and health of our Burmese cats. Our breeding cats are DNA tested for HK and their hearts are scanned for any genetic issues.
Visit our website http://www.burmesecatbreeder.net to learn more about us and our Burmese cats or search and like our Facebook page where we posts lots of photos and videos.
My Facebook page is called Burmese by Belshogar
Council Permit Number - AN/8289/2018/BAP

Barbiekatz Burmese
Barbara Cox
Griffin 4503 (Brisbane Metro Area)

0432 369 720
Barbiekatz Burmese kittens are raised in a loving family home with children. They are well socialised with the whole family and other pets. Before going to their new homes our kittens are fully litter trained, vet checked, vaccinated and microchipped. After sales advice and support is offered whenever possible. All our breeding cats have been tested for the Burmese genetic disorder Hypokalemia. Visitors are welcome to come and meet our beautiful cat family by appointment.
Oramor Burmese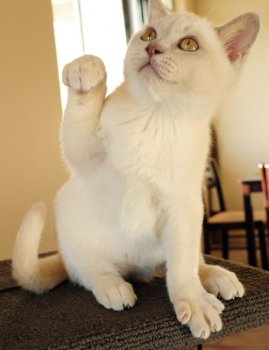 Mrs Sue Flavel
Tinana 4650 (Country Area)

0447 983538
Sue has been breeding top quality Burmese & Siamese Kittens for many years under the registered prefix "ORAMOR" in Maryborough, Queensland, Australia and has gained the respect as being a reputable and extremely responsible and dedicated cat breeder. Sue's primary aim is to breed healthy, robust kittens with loving, people-oriented, ultra-affectionate purrsonalities. The health and well-being of Sue's cats/kittens is paramount as her web site will testify!
Sue's Burmese & Siamese Kittens are lovingly raised with pride and your happiness at heart!
We don't just sell kittens, sound advice and after sale support is offered by "Oramor"
Satisfied Customers world wide.
Oramor is happy to arrange international deliveries.

Find us on Facebook
www.facebook.com/groups/BurmeseSiamese
Lushei Burmese
Barbara Ackerman
North Arm 4561 (Sunshine Coast Area)
07544 68557
0410 568974
Lushei Burmese Stud is a beautifully built well maintained breeding cattery situated 90 minutes north of Brisbane. It covers over 300sq metres of gardens, trees, climbing towers, cubby houses and water feature. Our Queens are free to roam the fully enclosed cat enclosure in safety and comfort. Kittens available. Visitors are most welcome....... Come Sit with our girls and enjoy watching their babies at play.
Burabylla Burmese

Bob Campbell
Logan (Brisbane Metro Area)
07 3200 8332

Breeding Burmese and Burmilla since 2000, we have bred many wonderful family pets through the years.

All of our kittens are born, raised and socialised in our home, vet-checked, vaccinated, desexed and microchipped before they leave us. Our Burmese breeding cats are all DNA tested negative for Hypokalemia. Our Burmilla breeding cats are all DNA tested negative for PKD and Hypokalemia.
Amberville Burmese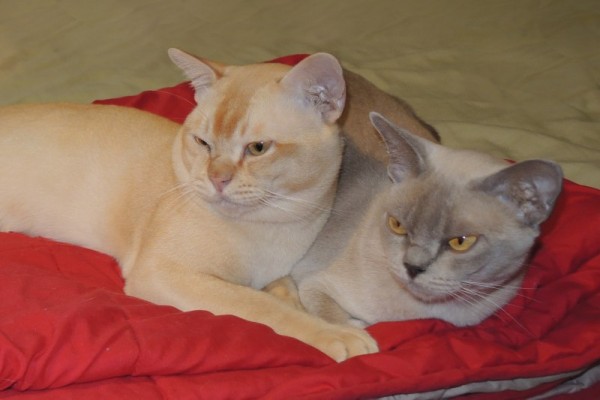 Martina Mitchell
Cairns (Country Area)
07 4037 0209
0404 527752
Are you looking for an affectionate and intelligent companion? Burmese need human interaction and lots of love; they are mischievous and playful, affectionate and trusting. Their favourite spot will be in your arms or on your lap. Amberville are experienced and passionate. We started breeding in 1989. Our cats are QFA registered and bred or type, health and most importantly temperament. Our Burmese are much loved family pets and our kittens are reared in our home with greatest love and affection. Occasionally offering family raised kittens for adoption to suitable new mums and dads. Stud and kitten enquires welcome.
BURMILLA
Bahati Burmillas
Carissa Dyett
Burpengary 4505 (Brisbane Metro Area)
07 3888 1119
0439 030 939
We are a small cattery dedicated to the breeding of beautiful, affectionate and the highest quality kittens. A Bahati kitten is raised with the highest standard of cleanliness and health, they are lovingly cared for and are well socialised in an indoor environment. All kittens are desexed, vaccinated and microchipped prior to going to their new home. All breeding cats have been DNA tested. Enquiries welcome.
Shezarda Burmillas
Valerie Stewart
Greenbank 4124 (Brisbane Metro Area)
07 3297 5709
0404 027 781 (Txt)
Shezarda Burmilla Cattery was QFA approved in 1999. My aim has been to breed strong, healthy kittens of the best possible standard. Kittens are available occasionally for pets, showing and to breeders with an approved Burmilla breeding program.
"HAPPILY DEDICATED TO THE NEVER ENDING PURSUIT OF AN IDEAL".
Ashbury Burmillas
Sue Campbell
Logan (Brisbane Metro Area)
07 3200 8332

Beautiful Burmilla Longhair and Shorthair. Also wonderful Burmese.

All of our kittens are born and raised in our home for socialisation, are vet-checked, desexed, vaccinated and microchipped before they leave us. Our breeding cats have all been DNA tested and are negative for Hypokalemia and PKD.
DEVON REX
Glamourex Devon Rex
Chantelle Lloyd
Robina (Gold Coast Area)
07 5593 1598
0415 988 989
If a Devon is a breed you would like to know more about........
I am more than happy for you to phone or email me so I can share my passion for Devons with you.

Having decided you need a
a. Interactive
b. Quirky
Low Maintenace and loyal friend
Then a DEVON is for you!
Viewing by appointment

PLEASE NOTE - Our website is currently under construction but you can visit us on our facebook page goldcoastdevonrex.