EXOTIC
CARAMELOS PERSIAN & EXOTIC
Martha Kiepe
Greenmount (Country Area)

0490321461
'Martha's Chinchilla and Ragdoll Kittens'

from our family to yours...



Our gorgeous healthy kittens come:

* disease free via parentage

( their disease free parents have had comprehensive Orivet tests)

* with their own DNA profile

* with at least 2 months of pet insurance ( for added peace of mind)

* desexed with their own certificate (if a pet)

* vaccinated, fully wormed (Inc. tape/heart), microchipped & with tick/flea prophylaxis

* with their own tagged collar & harness

* toilet trained & highly socialized with other cats, dogs, guinea pigs, chickens


* Payment/Layby plans are available



Contact Martha anytime on 0490321461
MYTRISHAEL PERSIAN & EXOTIC

(Sunshine Coast Area)


VONDERBREN PERSIAN & EXOTIC

(Brisbane Metro Area)


BELLEJOY PERSIAN & EXOTIC

(Sunshine Coast Area)


POTBREE EXOTIC

(Brisbane Metro Area)


RIVERKATZ PERSIAN & EXOTIC

(Country Area)


SPLYTWISKAZ EXOTIC

(Brisbane Metro Area)


SWEETCHEEKS PERSIAN & EXOTIC

(Brisbane Metro Area)


MAINE COON
Yendor Maine Coons
Margaret Sharpe
Caboolture (Sunshine Coast Area)
07 5428 1677
0417 281 675
Breeding Maine Coons for quality and health. Specialising in blacks/silvers, sometimes reds and mostly with white. All kittens are desexed as a pet before leaving. Show and breeders sometimes available.

Moreton Shire Council Breeders Permit - AN7035/2016/BAP
Ghostgum Maine Coons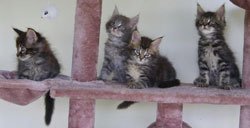 Kimi McKitrick
Rosewood (Brisbane Metro Area)

0458 130 444
Breeding large, healthy, well socialised Maine Coon kittens.

Ghostgum Maine Coons is a small, closed cattery (outside cats are not accepted). Kittens are born and raised in the house so a busy household is second nature to them and they are used to people and other animals.

Kittens are ready to leave to their new families from 12 weeks of age, and are toilet trained, have had their first 2 vaccinations, are health checked, wormed, microchipped, desexed and come with their registration certificates with the QFA.

Vakker Maine Coon
Tammy Dillon
Everton Park (Brisbane Metro Area)
073355 6689
0401 300 520
Our adult cats and kittens are raised in a loving family environment with 5 children and many other pets; NOT outside or in out of the way enclosures. This allows us to nurture healthy, secure, outgoing and affectionate kittens.

Kittens leave for new homes with registered pedigree papers, desexed, litter trained, vaccinated, wormed and microchipped.

Quality bloodlines producing many colour variations and markings within our litters; blue, red, silver, cream, tortoiseshell, tabby, bi-colour.

All enquiries welcome.

Riokay Maine Coons
Barbara La Rocca
Ashmore 4214 (Gold Coast Area)

0411 427 106
QFA Breeder number 0019

The Maine Coon breed has come back to Riokay. I bred Maine Coons some 20 years ago but stopped due to my health. I am so happy to be able to reintroduce them to my home again.

Other than being the largest pedigree breed they have such a sweet nature and wonderful temperament it would be difficult for anyone to not fall in love with them. I will only be keeping a couple of females as I want to give them the best of my time and attention.

Breeding healthy, strong show quality kittens is always the goal with a dedicated Registered Breeder.

As a registered breeder of nearly 40 years there is a responsibility to carry out DNA testing on all breeding cats. All cats are tested for HCM via ultrasound, are hip scored and DNA tested, and my cats are Feline Leukemia and FIV negative.

My 1st litter of kittens, "Burmese" were born in 1984. I still breed Burmese as well.

Breeder permit is with Gold Coast City Council, permit no. GC PBB 7564550