PERSIAN
Pussyfoot Exotic & Persians
Annette Swifte
Mackay (Country Area)

0417 614 876
Welcome to Pussyfoot, I have a small cattery residing in tropical Queensland breeding Exotic's N Persians in an
array of colours in solids, bi-colours and tabbies, specialising in dilutes. All my kittens are raised underfoot in a very
loving environment, I breed for quality not quantity with nice open expressions and beautiful natures. If you are after a lil treasure for a companion, show kitten don't hesitate to contact me
Mybenj Exotics & Persians
Ann Orrock
Gold Coast (Gold Coast Area)
5543 5566
0417 048 541
We are situated in the Tamborine Village area. We breed bi-colour and solid Persians and Exotics also Chinchillas. Our kittens are born and raised in our home. They are well socialised and make perfect pets, show kittens available sometimes.
RAGDOLL
Softnsweet Ragdolls
Kim Johnston
Mudgeeraba (Gold Coast Area)


Home of Softnsweet Ragdoll cats on the Gold Coast, Queensland, Australia.
One of my goals is to have enriched the life of each kitten with exposure and socialization so it can enjoy it's life. Combining this with selectively breeding true Ragdoll temperament to provide the best possible companion to you.
Tipasheena Ragdolls
Jo–Anne & Russell Clarke
Tewantin (Sunshine Coast Area)
5447 1588
0417 538 862
We are boutique breeders of the magnificent Ragdoll Cat and are situated in the picturesque township of Noosa, on the Sunshine Coast, in Queensland.
We are registered with the Queensland Feline Association 1320, and are dedicated to breeding beautiful, well adjusted, affectionate Ragdoll kittens with exceptional health and type. All parents DNA tested for HCM and PDK , FELV/FIV tested.
All our babies are raised in our home and are a very important part of our family.
Our kittens receive two vaccinations, Microchipped, 6 weeks free pet insurance and our pet kittens are all spay/neutered.
We have carefully selected quality Australian and Imported lines for our small in-home cattery.
We regularly attend cat shows, which ensures our cats and kittens are held to the true Ragdoll standard.

Angeleyes Ragdolls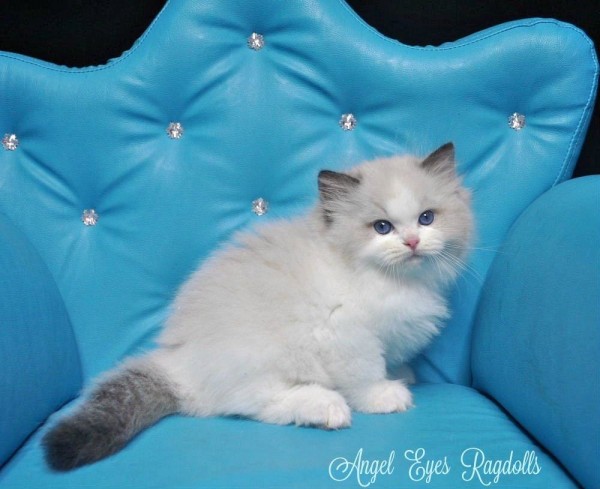 Steve & Chris Landers
Maroochydore (Sunshine Coast Area)


Angel Eyes Ragdolls Why? Because everyone needs an angel..... We aim to raise healthy, cheeky, blue eyed balls of fluff, underfoot in our home for your enjoyment. Please remember Ragdolls are indoors only. So if you are wanting a cat that can roam our kittens won't be going to your home!

angel-eyes@westnet.com.au
Rolypoly Ragdolls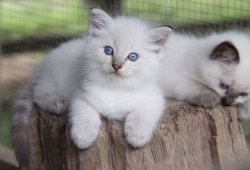 Annette Blakey
Tallebudgera (Gold Coast Area)
07 5533 8607
0405 508 068
Registered breeder of beautiful pedigree Ragdolls with sweet natures. Home reared and well socialised. We breed for health, type and temperament. Kittens are desexed, vet checked, microchipped and vaccinated.
Royalricks Ragdolls
Gaye Crimmins
Chermside (Brisbane Metro Area)

0404 391 976
Sumavalley Ragdolls
Sally Asmus
Chambers Flat (Brisbane Metro Area)

0403 707 155
We are a closed Ragdoll cattery situated between Brisbane and the Gold Coast.
Our 2 stud males are blue points and with an assortment of colours in females we get quite a range of colours in our kittens - blue, seal, red and cream.

Our kittens are raised in a loving environment within our family home.
Royalekatz Ragdolls
Sharon Turner
Park Ridge South (Brisbane Metro Area)
07 3297 1002
0421 459 495
We are a closed cattery located at Park Ridge Sth, south of Brisbane. We are proud breeders of the Ragdoll and breed exclusively for the Ragdolls loving nature and temperament. All our kittens are well socialised with people, dogs etc and our lives revolve around our extended family of cats. All of our cats are DNA tested for HCM and PKD and have the all clear before becoming breeders.
RUSSIAN
Babushkablue Russians
Lynda DuVallier & Michael Auld
Capalaba QLD (Brisbane Metro Area)

0414692831
Babushka Blue Russians have been breeding for 10 years.

We have outstanding temperaments in our Russians and they are brought up in the home. Mike is a vet of over 40 years and we own a large boarding cattery in Brisbane.

We breed all three colours, true blue, black and white Russians.

Most of our cats are also show cats and have titles

Mike & Lynda

Please see Babushkablue Russians Facebook page
Jesiki Russian
Kirsten Gowen
South East Queensland (Country Area)

0448 434 952
Jesiki is a brand new player in the pedigree breeding game. We work in conjunction with Azureblue Russians of Northern NSW and Quarterash Cattery in SE Queensland.
As a family operation, our queens, studs and kittens are all loved members of our family as we hope they will be in yours too