BURMESE
Riokay Burmese
Barbara La Rocca
Ashmore 4214 (Gold Coast Area)
07 5527 8188
0411 427 106
My Small boutique breeding program allows me to have kittens of 4 different colours which are available at various times during the year, including winter. Kittens are born in my home and raised underfoot with care and attention to their proper nutrition. They receive a well balanced diet and lots of socialisation and are well accustomed to human handling and a toy poodle. Pet kittens will be desexed, microchipped, vaccinated, wormed and health checked by a vet prior to sale, and 6 week free PetPlan insurance. Professional dry food samples come with your kitten (not supermarket). My breeding lines are free from Burmese Hypokalemia (HK). Breeder permit is with the Gold Coast City Council Permit No GC PBB 7564550.
Aztec Burmese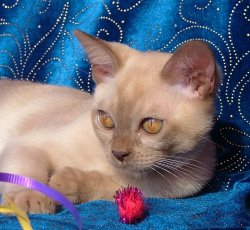 Stephanie Wise
Elimbah 4516 (Sunshine Coast Area)
07 5432 8010
0413 837 983
Welcome to Aztec Burmese.

Here at Aztec we pride ourselves in breeding happy healthy kittens who love cuddles, to play and explore!

To view up to date photos of our beautiful cats and kittens please view our Facebook page Aztec Burmese and Tonkinese
All Stud, Cat and Kitten Enquires welcome.

Moreton Bay Regional Council Breeder Permit No AN/1011/2009/BAP

Like Us On Facebook

Oramor Burmese
Sue Flavel
Maryborough (Country Area)
0447983538

Sue has been breeding top quality Burmese kittens for many years under the registered prefix
'ORAMOR' in Maryborough, Queensland, Australia. She has gained the respect of being a reputable and extremely responsible and dedicated cat breeder.
Sue's primary aim is to breed healthy, robust kittens with loving, people-orientated, and ultra affectionate purrsonalities.
The health and well-being of Sue's cats/kittens is paramount as her web site will testify!
Oramor Burmese kittens are lovingly raised with pride and your happiness at heart!
Sue doesn't just breed and sell kittens, sound advice and after sales support is offered by "Oramor".

Satisfied customers world wide!
Lushei Burmese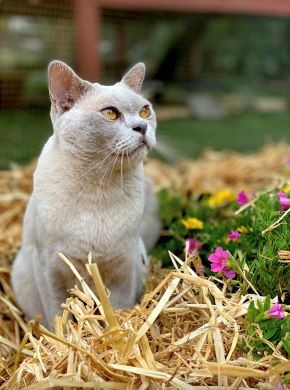 Barbara Ackerman
Sunshine Coast (Sunshine Coast Area)


Situated in a picturesque rural setting on Queensland's Sunshine Coast is the Lushei Burmese Cat Stud.
The owners of Lushei wanted to create an area that would be mentally and physically healthy for their cats, allowing them also, to live in harmony with the surrounding wildlife.
Awisker Burmese & Tonkinese

(Country Area)


Brampets Burmese

(Country Area)


Deneden Burmese

(Sunshine Coast Area)


Eirian Burmese

(Country Area)


Jersey Burmese

(Country Area)


Majabralia Burmese

(Brisbane Metro Area)


Ambrflam Burmese

(Brisbane Metro Area)


Bootlace Burmese

(Country Area)