BURMESE
Aztec Burmese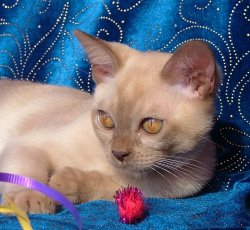 Stephanie Wise
Elimbah 4516 (Sunshine Coast Area)
07 5432 8010
0413 837 983
Welcome to Aztec Burmese.

Here at Aztec we pride ourselves in breeding happy healthy kittens who love cuddles, to play and explore!

To view up to date photos of our beautiful cats and kittens please view our Facebook page Aztec Burmese and Tonkinese
All Stud, Cat and Kitten Enquires welcome.

Moreton Bay Regional Council Breeder Permit No AN/1011/2009/BAP

Like Us On Facebook

Taramis Burmese
Nancy Thornton
Cashmere (Brisbane Metro Area)

0439 672 060
Taramis is a small home-based cattery. My focus is raising healthy kittens with great temperaments. Because they are raised in the home they become accustomed to everyday activities and noises. All my breeding cats have been DNA tested and are negative for HPK. Burmese are a wonderfully affectionate, cuddly and playful breed.
Inquiries always welcome.
Arells Burmese
Ella Feininger
Warwick (Country Area)

0412 323 394
We are a small, in-home cattery that exclusively breeds Burmese cats. Our breeding goals are to breed healthy highest quality Burmese kittens, without HD defect and to keep the Burmese personality from extinction. We are very careful about where we place our kittens. We want to to make sure that our kittens are going to homes that will give them the love they need. My family and I hold and play with our cats and kittens every day. Our kittens go to new homes vet checked, vaccinated, microchipped and litter trained.
Awisker Burmese & Tonkinese

(Brisbane Metro Area)


Batice Burmese

(Brisbane Metro Area)


Beauteous Burmese

(Brisbane Metro Area)


Brampets Burmese

(Brisbane Metro Area)


Deneden Burmese

(Brisbane Metro Area)


Eirian Burmese

(Brisbane Metro Area)


Jersey Burmese

(Brisbane Metro Area)


Leebeejay Burmese

(Brisbane Metro Area)


Lextris Burmese

(Brisbane Metro Area)